US Soccer Development Academy Tours
Travel and Play has worked with a number of U.S. Soccer Developmental Academy clubs in creating high-level tours for their Academy teams. Development Academy tours often include  games against European Academies and training at first class facilities, as well attendance at a professional games and stadium visits.
"Travel and Play have been working with Lonestar Soccer Club for the past 10 years.  We have played all over the world at all levels and every trip has been of the highest quality! The professionalism and quality of the programs Barry and his staff have put together have had a tremendous effect and lasting impression of our players and families."
Victor Pace
Director of Coaching
Lonestar Soccer Club, Austin, Texas
"I have taken various trips with Travel and Play and they have always been of high quality with excellent attention to detail. We look forward to our future adventures with Barry and his company."
Marc Nicholls
Seattle Sounders FC
Academy Technical Director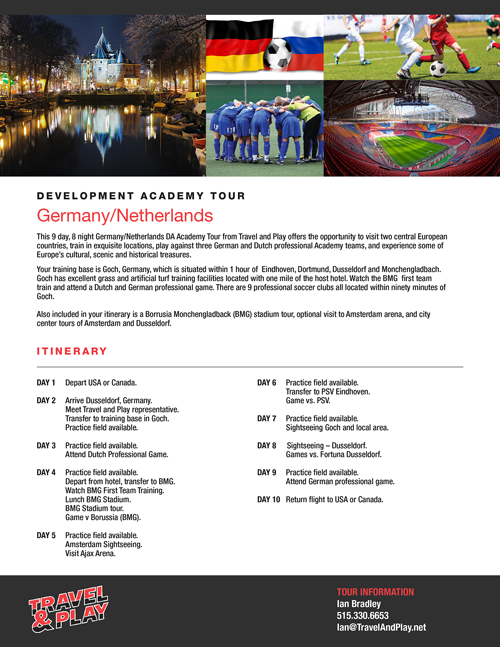 Germany and Netherlands Tour — Sample Developmental Academy Tour Itinerary
Get started planning your team's international tour today.